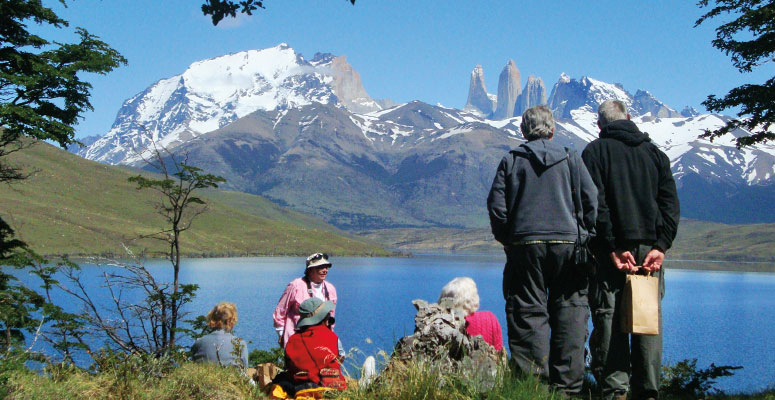 Life's most inspiring experiences rarely happen in your living room
"As night crept in, the tour buses departed, and our group was alone in this incredible place. I have never seen so many stars, and in their light I could see joy radiating on the faces of my new-found friends." Special experiences like these are at the heart of every Odysseys Unlimited tour and why so many guests choose to travel with us again and again.
America's Leader in Small Group Travel
Delivering High Quality and Outstanding Value
A Tradition of Excellence
Since 1989 we've created custom-designed tours for more than 50 of America's most prestigious non-profit organizations. Now we put our expertise to work on a wider scale by making our tours available to all travelers, while continuing to serve our client institutions.
Small Groups of Just 12 to 24 Guests, Carefully Designed Itineraries, and an Appropriate Pace of Travel
Each of our tours is custom-designed specifically for small groups, with a balanced mix of traveling, sightseeing, cultural encounters, and free time. Most important, we limit our tour membership to just 12 to 24 guests, both for the freedom, flexibility, and camaraderie that small groups engender, and also so guests may enjoy a more personal and authentic travel experience. We show you the highlights -- and the unexpected. And we generally spend at least two nights in most places, and sometimes as many as five, so you won't be run ragged changing hotels every day.
A Diverse Selection of Tours
We offer a diverse array of tours and small ship cruises throughout the world, ranging in length from 11 to 21 days: Europe on and off the beaten path; ocean, river, coastal, and private yacht cruises; adventures in Africa and The Americas; discoveries in Asia and the Far East; far-reaching journeys to South America, Antarctica, and Australia and the South Pacific— all with unique features available only to small groups.
Extensive Included Sightseeing — and No Hidden Costs
Our tours include a great deal of thoughtful and engaging sightseeing and activities, from museum tours, elephant treks, and scenic excursions to home visits, musical performances, and wine tastings. In major cities you'll usually have time to explore on your own after a guided city tour. And traveling from one destination to another isn't always just a transfer, it's an added opportunity to visit a special village, historic site, or ancient ruin.
Hotels: Excellent Quality and Location
Since accommodations comprise an important aspect of your trip, we've gone to great lengths to select hotels that meet our standards of high quality, convenient location, and excellent service. From superb hotels in major cities to unique or historic lodgings too small for conventional tour groups of 40 or more, these hotels promise to enhance your enjoyment and comfort throughout your trip.
Our Tour Directors Make the Difference
We believe that personal attention is key to an outstanding travel experience, so we've ensured that it's a hallmark of all Odysseys Unlimited tours. Our professional Tour Directors rank among the best in the business; their love of travel is surpassed only by their desire to share their enthusiasm and knowledge with others. And a small group means your Tour Director will have more time to spend with you and more time to share the personal insights that can add so much to your experience. This helps make your trip genuinely special -- and different from conventional tours.
Major Airline Service
We use scheduled airline service on major commercial airlines worldwide. Business Class upgrades on select international flights are available on request. We also offer low-cost domestic connecting flights to your gateway city.
Fully Refundable Deposits
A deposit of just $375 confirms your reservation, which you can make with a personal check or major credit card. Best of all, your deposit is fully refundable up to 95 days before departure.
Guaranteed Tour Prices
All tour prices are fully guaranteed through December 31, 2017.
Get a great read – our FREE catalog
Statement of Confidentiality: This information is for the sole use of Odysseys Unlimited. It will not be rented, sold, or otherwise given to any other business or entity for any other purposes.